OPENING HOURS, ACcESS & ADMISSION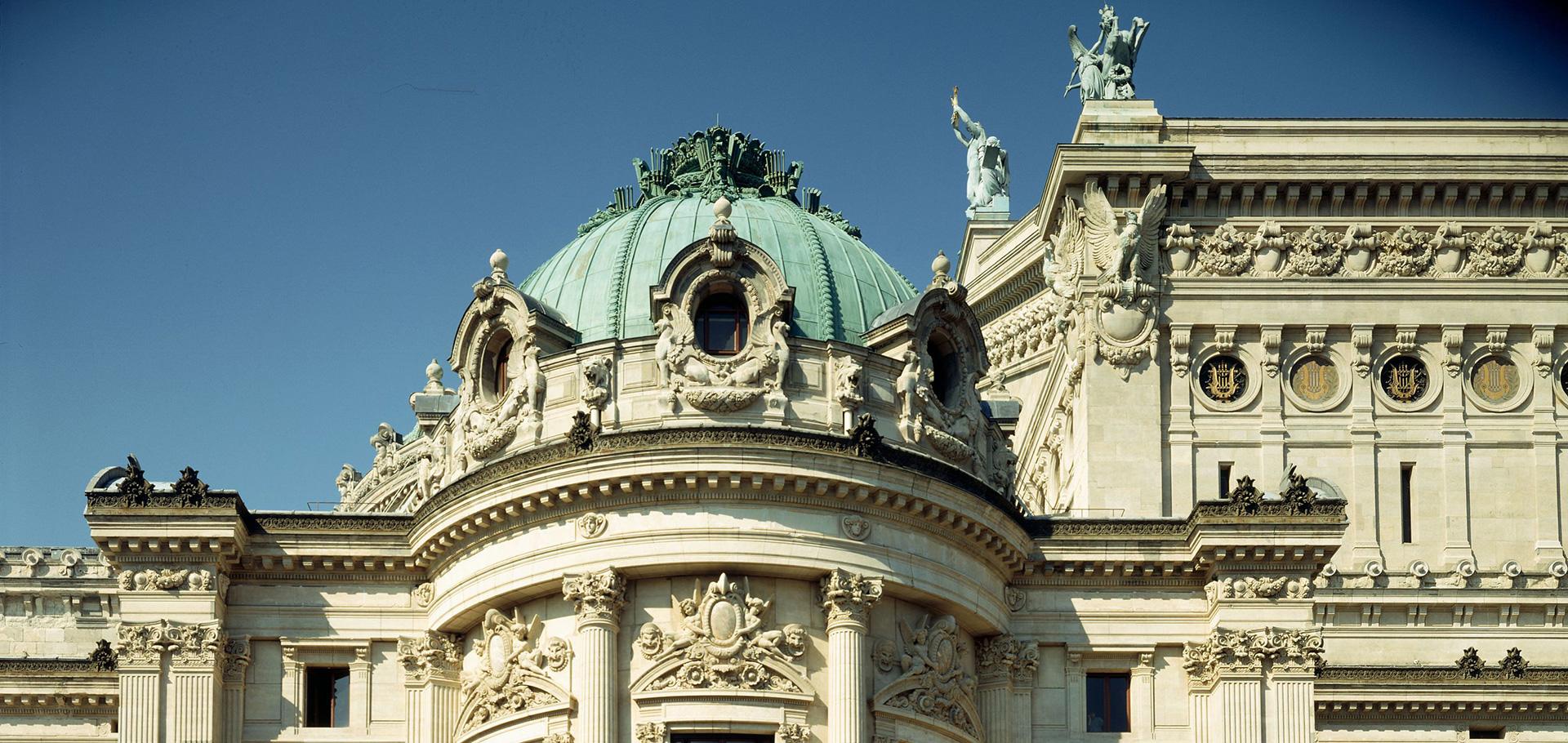 Opéra
General Information
The Opera Library
&
Museum was joined to the National Library in 1935. It originates from the Opera library and archives created in 1866 and from the Opera museum which opened to the public in 1881. 
The current layout of the Opera Library and Museum dates back from 1991. The reading room is housed in the sitting room, the temporary exhibitions take place in the lower Rotunda and the permanent exhibition is located in the former smoking room.
Café
Palais Garnier
Public entrance :
Corner of rue Scribe and rue Auber
Postal address: 
8 rue Scribe
75009 Paris
Phone: +33(0)1 53 79 59 59
Bus
Lines 20, 21, 27, 29, 45, 52, 66, 68, 95
Metro
Lines 3, 7, 8, (Opéra), 7 et 9, (Chaussée-d'Antin) RER A, (Auber)
Opening Hours
Monday to Saturday: 10AM – 5PM
Closed on Sunday
Please note
The BnF is closed on bank holidays*
Annual closing 
of the Paris sites (François-Mitterrand, Richelieu, Bibliothèque de l'Arsenal
&
Bibliothèque-musée de l'Opéra): 
from Thursday, August 29, 2019 evening to Monday, September 9, 2019 in the morning.
*1 January, Easter Sunday and Monday, 1 and 8 May, Ascension Thursday, Pentecost Sunday and Monday, 15 August, 1 and 11 November, 25 December 
EXHIBITIONS
Opened everyday:
10AM - 5PM (accès jusqu'à 16h30)
The museum is not accessible during exceptional closures of the Palais Garnier.
Research Library
Research Opéra Library
Monday
Tuesday
Wednesday
Thursday
Friday
Saturday
Sunday
10AM
-
5PM
10AM
-
5PM
10AM
-
5PM
10AM
-
5PM
10AM
-
5PM
10AM
-
5PM
 
Please note
Document communication stops 30 minutes before the closing of the reading room. 
5-Day Research pass   (consecutive or not)
20 €
Unlimited research pass
Accès à la bibliothèque de recherche, à la bibliothèque tous publics,
aux expositions, concerts et spectacles vivants de la BnF.
Valable pendant 1 an.
Document consultation 
To access the reading room of the Opera Library, you must be carrying a pass. It can be delivered to you on site. If you want to access other research Library sites (François-Mitterrand, Richelieu, Arsenal), you must carry a Research Pass. This pass is available online or at the François-Mitterrand and Richelieu libraries
Passes
Day Research Pass

5 Day Research Pass (consecutive or not) 
These two passes grant you free circulation during your day in all reading rooms of the Research Library as well as on all our sites. 
This pass additionally grants you free access to the Library upper garden reading rooms, exhibitions and events at the BnF. 
The three passes are valid for one year from their delivery date. They are strictly personal.
Before purchasing a pass
You can prepare your visit by consulting our online catalogue or using our SINDBAD service by chat, phone or email.
Access and admission prices
You have to be over 18 years old.

You need to show proof that you are conducting academic, professional or personal research work. 
Heritage collections consultation is chiefly meant for extended, long-term research. It can also respond to short-term research, especially in case of not being able to find a document in other libraries.
Readers are invited to leave their personal belongings at the entrance of the library. While consulting documents from the Reserve or especially fragile or precious items, only pencils are authorized. 
Please note: A request must be made prior to any communication of documents from the Reserve. Requests must be addressed to the person in charge by phone or directly in the reading room. 
Getting accredited
On the Richelieu and François Mitterrand sites, a personalized interview will be conducted by a librarian at the Accreditation service to assess the needs of each reader, and determine their accreditation and its duration (1 Day, 5 Day, Unlimited). The pass will then be given to the reader. 
Electronic Resources 
The library offers many electronic resources – periodicals, monographs, databases, Gallica and Internet Archives - which can be accessed on-site or online;
Making your visiting experience easy
Cloakroom
You can leave your personal belongings in the cloakroom before your visit (within storage capacity), except valuable and large items.
Please note
Cloakrooms work with 1 or 2 euro coins or with tokens available at the General Information desk. 
Under Plan Vigipirate at 'Heightened Security/Risk of Attack' level, security and controls near the Library entrance have been strengthened. Only cabin luggage (55cm × 35cm × 25cm) are accepted inside BnF. 
Consequently, access can take a little longer than normal. We thank you for your understanding. 
Mandatory deposits 
To make your visiting experience easier, some items must be checked at the cloakrooms: 
Motorbike helmets 

Umbrellas and walking sticks 

Backpacks and small luggage 

Sharp and harmful objects  

Cardboard portfolios 
Please note: Some collections are submitted to specific rules.