OPENING HOURS, ACcESS & ADMISSION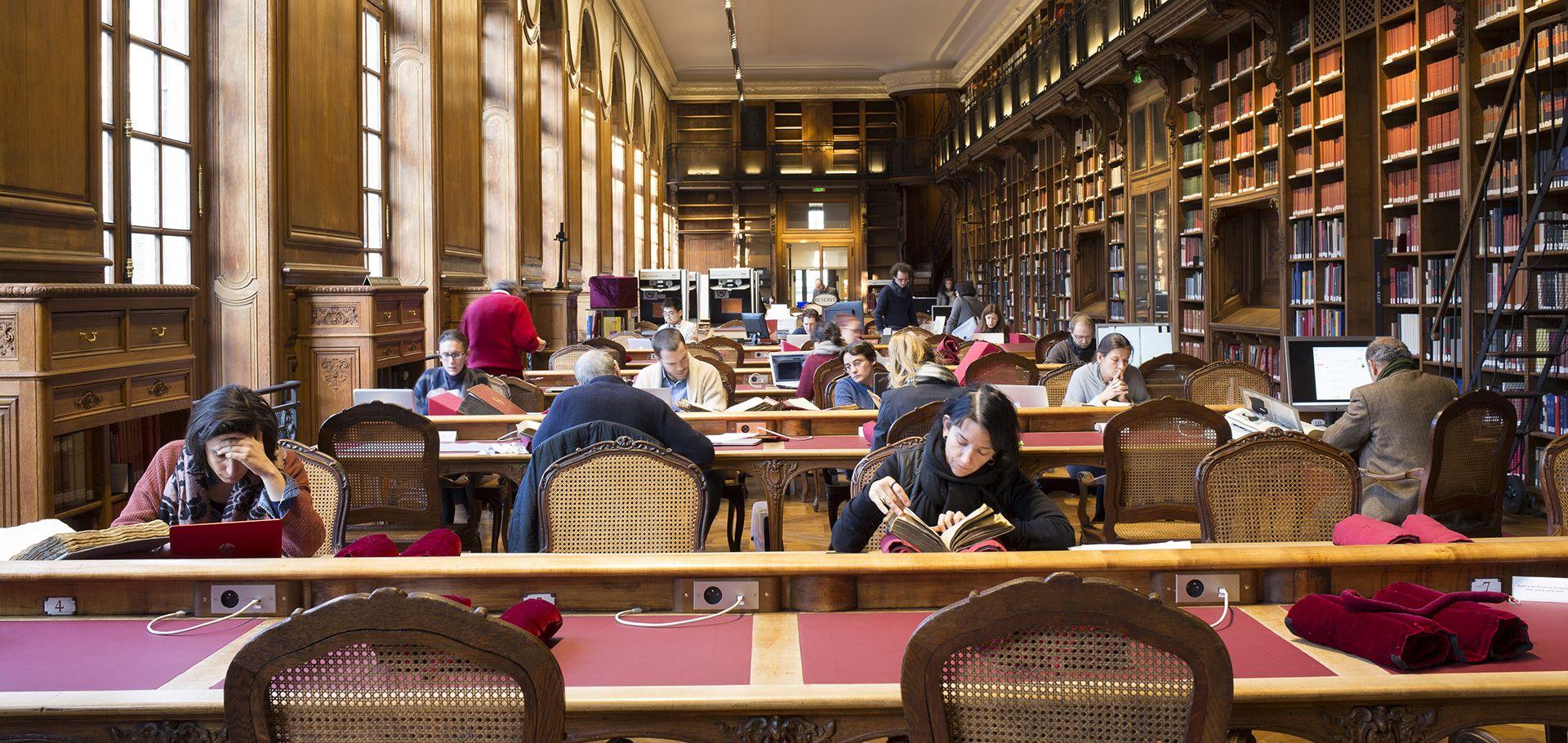 Richelieu
General Information
The Richelieu Library hosts the BnF reading rooms (Department of Manuscripts; Prints and Photography; Coins, Medals and Antiques; Performing Arts; Music), the Library of the National Institute for Art History (INHA) and the Library of the École nationale des Chartes (ENC). A valid research pass is mandatory to access the reading rooms. 
The site is undergoing renovation but remains open to the public. Although especially designed for researchers on art history and heritage, it is also open to all for visits and cultural events. 
Wifi

Café
Site Richelieu
58, rue de Richelieu
75002 Paris
Phone : +33(0)1 53 79 59 59
Bus
Lines 20, 29, 39, 74, 85

Metro
Line 3 (Bourse), 1 & 7 (Palais-Royal-Musée du Louvre), 7 & 14 (Pyramides).
Opening hours 
Monday: 2 pm - 7:30 pm
Tuesday: 9 am - 8 pm
Wednesday to Friday: 9 am - 7:30 pm
Saturday: 9 am - 6:30 pm
Sunday and Holidays*: 10 am - 6 pm
Please note
The BnF is closed on bank holidays*
Annual closing
:
Monday, June 20, 2020.
*1 January, Easter Sunday and Monday, 1 and 8 May, Ascension Thursday, Pentecost Sunday and Monday, 15 August, 1 and 11 November, 25 December 
Accessibility 
Our visually impaired visitors can use a tactile paving from the readers' entrance, located 58 rue de Richelieu. Three audio beacons will guid them to the visitors' desk located in the hall. There is also an access ramp for people with reduced mobility. 
During the ongoing works on site, visitors in wheelchairs may have difficulties to access the Coins, Medals and Antiques reading room. Visitors can ask on-site agents to help them use the staff elevator situated nearby the Coins, Medals and Antiques room entrance.
Please note:
Wheelchairs are available on demand at the cloakrooms. You will need to deposit a valid piece of identification at the visitors' desk.
Research Library
Research Library 
Monday
Tuesday
Wednesday
Thursday
Friday
Saturday
Sunday
2PM
-
7PM
10AM
-
7PM
10AM
-
7PM
10AM
-
7PM
10AM
-
7PM
10AM
-
6PM
 
Inscription
Monday
Tuesday
Wednesday
Thursday
Friday
Saturday
Sunday
2PM
-
6PM
9AM
-
6PM
9AM
-
6PM
9AM
-
6PM
9AM
-
6PM
9AM
-
6PM
 
INHA Library 
Monday
Tuesday
Wednesday
Thursday
Friday
Saturday
Sunday
9AM
-
7:30PM
9AM
-
7:30PM
9AM
-
7:30PM
9AM
-
7:30PM
9AM
-
7:30PM
9AM
-
6:30PM
 
Reduced fees in July and August. The library closes every day at 6:30 PM during that period.
Special features of the Prints and Photography Department
Reserve: Tuesday, Wednesday, and Thursday, 10AM to 1PM (2PM to 7PM on Tuesday by appointment)
Consultation of large-format documents in storage: Mondays and Fridays from 2PM to 5PM (by appointment only)
5-Day Research pass   (consecutive or not)
24 €
Unlimited research pass
This pass additionally grants you free access to the Research Library and the General Library reading rooms, exhibitions, and events at the BnF. Valid for 1 year.
.
Collection Subjects - Reading Rooms
Book my seat See other research libraries
Viewing the documents
To access the reading room of the Richelieu Library, you must be holding a pass. It can be delivered to you on site. If you want to access other research Library sites (François-Mitterrand, Richelieu, Arsenal), you must carry a Research Pass. This pass is available online or at the François-Mitterrand and Richelieu libraries.
Before purchasing a pass
You can prepare your visit by consulting our online catalogue or using our
Ask a Librarian SINDBAD
 service by phone or email. 
Access and admission prices
You have to be over 18 years old. 
You need to show proof that you are conducting academic, professional or personal research work.  
The consultation  of Heritage collections is chiefly meant for extended, long-term research. It can also respond to short-term research, especially in case of not being able to find a document in other libraries. 
Master and postgraduate students, higher education teachers and researchers may register directly online or on-site at the Inscription desk. They will need to provide proof of research upon retrieving their pass. 
BA level students or any person with a personnal or professional research project may get a Research Pass upon presentation of justificatory documents during an interview with the Inscription Service at the François-Mitterrand or Richelieu libraries. 
Attention! The inscription Service closes at 7 pm. No Pass can be delivered past this time.
Passes
Day Research Pass

5 Day Research Pass (consecutive or not) 
These two passes grant you free circulation during your day in all reading rooms of the Research Library as well as on all our sites. 
This pass additionally grants you free access to the Library upper garden reading rooms, exhibitions and events at the BnF. 
The three passes are valid for one year from their delivery date. They are strictly personal.
Please note
If your reading pass gets lost or stolen, the reader's responsibility will be lifted only after a written declaration addressed to the Bibliothèque nationale de France.
Cost of a lost, stolen (without proof of theft report) or forgotten pass: 2€
Pass replacement is free if the pass is malfunctioning or if it was stolen (upon proof of theft report). 
Personal data collected during pass creation are kept by the BnF. For all access, modification or deletion requests, you can contact our data protection correspondent. 
Prices
Making your visiting experience easy
Cloakroom
You can leave your personal belongings in the cloakroom before your visit (within storage capacity), except valuable and large items.
Please note
Cloakrooms work with 1 or 2 euro coins or with tokens available at the General Information desk. 
Under Plan Vigipirate at 'Heightened Security/Risk of Attack' level, security and controls near the Library entrance have been strengthened. Only cabin luggage (55cm × 35cm × 25cm) are accepted inside the BnF. 
Consequently, access can take a little longer than normal. We thank you for your understanding. 
Mandatory deposits 
To make your visiting experience easier, some items must be checked at the cloakrooms: 
Motorbike helmets 

Umbrellas and walking sticks 

Backpacks and small luggage 

Sharp and harmful objects  

Cardboard portfolios 
Please note: Some collections are submitted to specific rules. 
Get to know us
If you want to get to know the Library and navigate the spaces or know which offer is better suited to you, we offer a bespoke service for everyone including non-ticket holders. You can access the service:
Directly on site from 10 AM to 1 PM, Tuesday to Friday (Inscription Service).