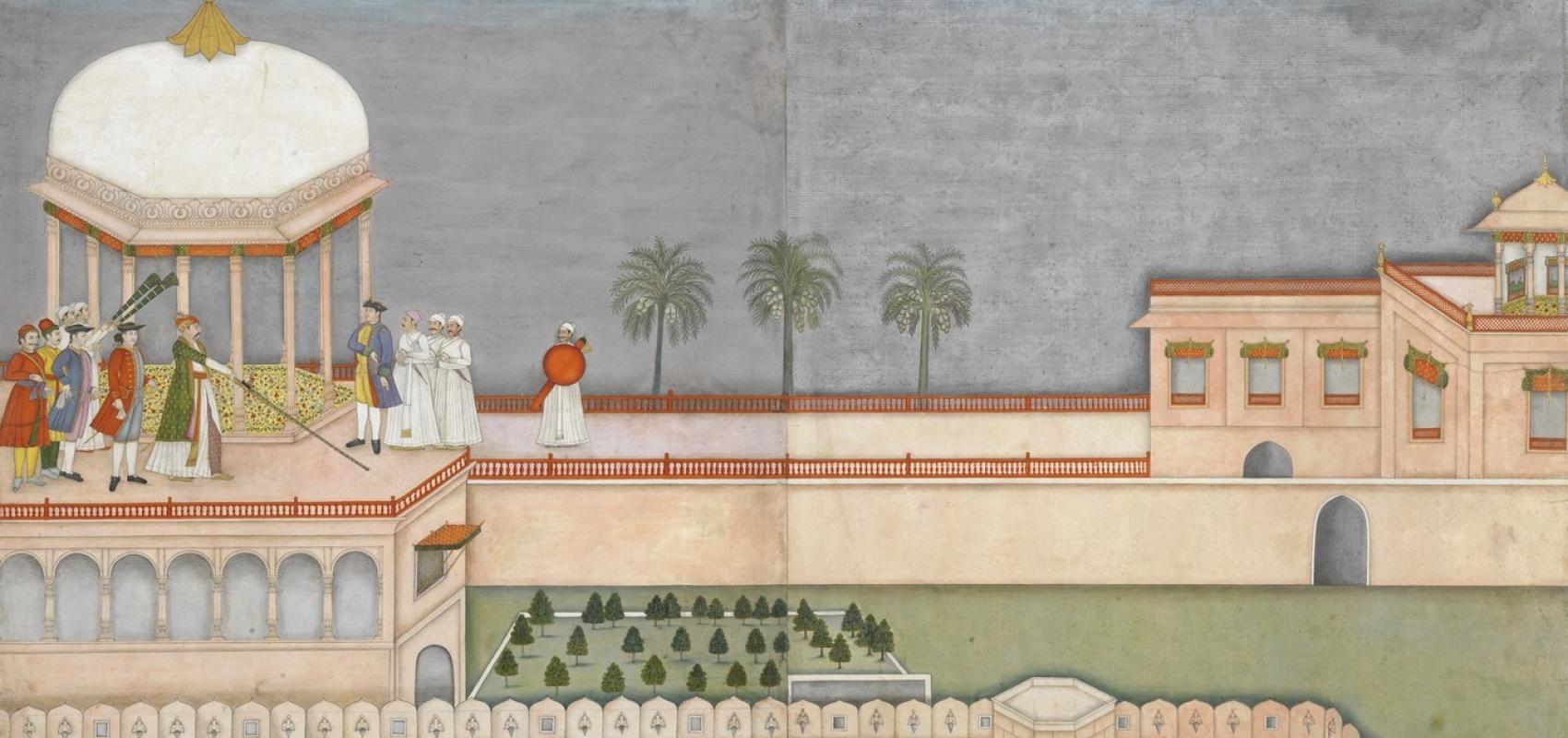 The exhibition is a journey through the lives of 12 Indian rulers and French speaking officers serving under them during the second half of the 18th and the first decades of the 19th century. Sharing the court life, some ruling over vast jagirs, some of those officers commissioned or collected priceless collections of manuscripts and paintings. Today, many of those treasures are preserved at the BnF.
Focus on the exhibition
The first part of the exhibition proposes a very brief biography of those 12 rulers and the French speaking officers. Various collections and artefacts from the National Museum - New Dehli showcase a time when those military men sought fortune serving rajas and nawabs. While reorganising their army, and arsenals, they also shared the life at the court. 
The second part displays a selection of the Indian sacred text, showcasing both the wide variety of material preserved in the BnF and the immense religious diversity of India.
The third section takes us to the world of the Firanghees through paintings from the BnF and the Muséum National d'Histoire Naturelle. How did they project themselves in their journey to the East, and how were they represented by miniature artists? This presence translated in the circulation of Western religious and secular images adopted and adapted by court painters. Some of these Frenchmen also commissioned Indian artists images to illustrate albums about Indian history, numismatic and botany, based on the knowledge of South Asian scholars. 
Finally, the focus shifts towards the colonial gaze, as in the early 19th century, artists from the Coromandel region were commissioned by administors of the French settlements in India to make a multitude of albums in the form of ethnographic surveys.
In the BnF's collections
India has been represented in the BnF since the 1730s. The Abbé Jean-Paul Bignon, Louis XV's librarian, asked Jesuit missionaries to send him documents that were representative of Indian literature and knowledge. They sent him nearly 300 manuscripts from Bengal and Tamil Nadu. Since this founding contribution, acquisitions in this field have continued uninterrupted. Travellers, administrators and scholars gave or sold their private collections, thereby enriching the national collections of paintings and manuscripts which were used to discover and study the cultural riches of India. Today, the BnF holds one of the largest collections in Europe in this field with nearly 3,000 manuscripts – 2,000 in Sanskrit and Prakrit from all over India and 1,000 in modern languages including 600 manuscripts in Tamil. Some fifty painting albums, containing 3,000 pieces from different regions and schools, round off this collection. The publication of printed books in and about India has always been of interest. From the first scholarly editions right through to classic works of 20th-century Hindi literature, nearly 20,000 publications shed light on South Asia in all areas of knowledge. As well as these physical collections, there is a rich collection of sound recordings, revealing the variety of Indian languages and music. 
Organisation
Curatorship by Samuel Berthet, Director of the Alliance française Hyderabad
Associated curators and authors:
Rana Chhina, Indian Author and Military Historian
Irène Frain, French Author
Raphaël Malangin, Research Scholar
Jérôme Petit, Manuscrits Department, BnF
Kapil Raj, Head of Studies, School of Advanced Studies in the Social Sciences (EHESS - École des Hautes Études en Sciences Sociales)
Dhir Sarangi, Professor at the Centre for French

&

Francophone Studies, Jawaharlal Nehru University, New Delhi
Mrinalini Sil, School of Arts and Aesthetics, Jawaharlal Nehru University, New Delhi
Selvam Thorez, Director of the Alliance française Chittagong
With the contribution of Bishwadeep Moitra and Sunil Menon
This exhibition is organised by
In collaboration with the BnF,  lnstitut français Pondichéry and the Muséum national d'Histoire Naturelle
Practical information
See the event page from Alliance française New Dehli
Picture: Nawab Shuja ud-Daula firing a musket from the terrace of his palace, Album "Indes. Costumes et mœurs" (c.1765) | BnF, Prints and Photography Department